History
Kämpasten was built in 1982 with just one aim: to create the perfect environment for learning and meeting. Thousands of leaders have taken part over the years in various training programs for better leadership and more profitable business. Nowadays we also welcome other companies to take the opportunity to meet and confer in this dedicated environment.
Today, Kämpasten is the natural choice for customers seeking the best possible conditions for learning and effective meetings.
Behind Kämpasten's success lies our commitment to the original concept of always offering the best learning environment, service and quality. Some things never go out of fashion.
According to legend, a strong giant ("kämpe" in Swedish) threw a large boulder ("sten" in Swedish) which landed on the shores of lake Mälaren. The boulder soon acquired the name of Kämpasten and this, in turn lent its name to the place several hundred years ago.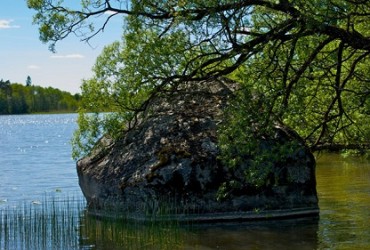 It is also said that chains were stretched between Kämpasten and a similar boulder on the other side of the lake to prevent enemy ships reaching Sigtuna. The old town has a natural place in Sweden's history.