Find us
Kämpasten is 3 kilometers west of Sigtuna, about twenty minutes from Arlanda airport, approximately 45 minutes from central Stockholm and about 30 minutes from Uppsala.
Address
Kämpastensvägen 17
Box 2, 193 21 Sigtuna, Sweden
Telephone: +46-8-592 585 00
GPS-coordinates
Latitude N 59 degrees 37' 8"
Longitude E 17 degrees 40' 35"
X 6612497
Y 1605611
Air
If you arrive at Arlanda airport it is a mere 20 minutes to Kämpasten. We will be happy to assist you with ordering a taxi or recommend taxi companies that we are cooperating with. Contact our Reception on +46-8-592 585 00 or on kampasten@exedsse.se
Car
From Stockholm it takes about 45 minutes by car. Follow route E4 north towards Arlanda. Turn off at the Märsta/Sigtuna exit. Continue towards Sigtuna. At the roundabout in Sigtuna follow the "Hotellslinga V" signpost. After about 1.9 kilometers you will see the hotel signposted to the left. From Enköping/Västerås take route 55 towards Uppsala. At Litslena take route 263 to Sigtuna. From Uppsala take route 255 to Sigtuna. At the first roundabout take to the right at "Sigtuna Väst, Hotellslinga V."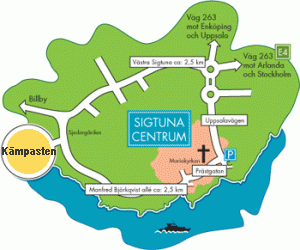 Train/Bus
If you arrive by train to Stockholm Central Station, you can travel on to Märsta using the local commuter train (Pendeltåg). This train departs four times every hour. From Märsta station take bus 575 to Kämpasten leaving the bus at the stop after Sjudargården. If you choose to take a taxi from Märsta, the journey will take approximately 15 minutes.
Taxi
The trip from central Stockholm takes about 40-60 minutes, depending on the state of the traffic.
We will be happy to assist you with ordering a taxi or recommend taxi companies that we are cooperating with. Contact our Reception on +46-8-592 585 00 or on kampasten@exedsse.se